This blog will look at whether Google Home can connect to Bluetooth speakers. The blog will look at how you can connect Google Home to Bluetooth speakers. We will also look at whether you can connect any Bluetooth speaker to Google Home or if there is a list of Bluetooth-compatible speakers.
We will also look at whether you can stream music from Google Home to Bluetooth speakers or whether you can use Google Home as a Bluetooth speaker.
1. Pairing Google Home Device with Bluetooth Speaker
If you have a device that's compatible with Google Home, then getting started is pretty simple. As long as you have a smartphone or tablet, the initial setup can be done in just a few minutes:
1. Launch the Google Home app on your smartphone.
2. Select the "Devices" button at the top-right of the screen.
3. Choose the "More" option (three vertical dots) on the top right of the Devices screen.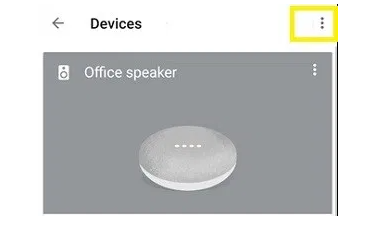 4. Tap "Settings."
5. Go to the "Connected devices" option in your Google Home app. From here, you can pair your home with any number of different devices, such as pairing a phone for hands-free calling or sending a text through Google Home.
Your Bluetooth speaker should show up in the results if it's on and available. If it isn't, take a moment to make sure your speaker is going through pairing mode for the other devices you want to link with it. If you're unfamiliar with how this works, please refer to your user manual for more information.
When you have a Google Home device and have searched for your speaker, choose the "Pair Bluetooth speaker" button beneath the discovered preview of your product. If necessary, look at the pairing code to enter it on your speaker where indicated.
Afterward, Google Home will pair with a Bluetooth speaker, which will thenceforward function as the default playback device for your Google Home device. Any audio you subsequently play over a Google Home unit will be routed through any Bluetooth speaker that is switched on.
2. Creating a Multi-Room Audio
When you connect multiple Google devices in a home with Google multi-room audio, your entire home can hear the same song on different devices. Turning on music in the living room, for example, wirelessly casts it to other speakers such as the ones in the bedroom and even outside with a Chromecast Audio hooked up to it.
You can create multiple speakers on the Google Home. While this is impressive, how does it relate to Bluetooth speakers?
Whether you have one or several Google Home devices, they can all be connected to a single Google Chromecast Audio. When multiple speakers are connected to the Chromecast Audio device, you can use your phone to sync them so that they play music in sync and/or create virtual speakers throughout your home.
First you need to connect Google Home devices and their Bluetooth speakers. Then make sure that all devices are on the same network as your smartphone.
After that, just follow these instructions:
Launch the Google Home app.
Tap the "Add" button (plus sign) at the top left corner of the screen.
Select "Create speaker group."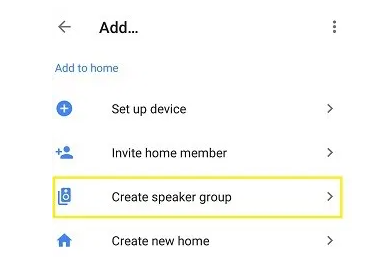 Here you can choose all of your connected smart devices on the Home Screen that you want to link in a specific group. Add the group name (e.g. "Kitchen") and save it.
Now, whenever you want to play audio on the entire team in Slack, you can use the following slash command:
"OK Google, play [name of the audio] on [name] Home group."
If you don't plan on using a single speaker, then follow the same process as before.
3. Are You Experiencing a Bad Bluetooth Connection?
If your Home device won't pair with your Bluetooth speaker, there is no need to panic. We're here to help!
Google Home, and Nest users have reported issues as related to Bluetooth connection. The problem seems to be a common one that Google has yet to address.
Many customers have complained about their devices not maintaining a steady connection. For example, they might stream something from their smartphone to the device, but then what happens is that speaker connects wirelessly so instead of streaming, it's actually being played through the speaker and this is considered a fault.
Despite this being a minor inconvenience for a lot of users, Google remains true to their goal and principle of making sure information is available at all times. We appreciate this fact that they remain transparent about what is happening and we can only hope to see the problem solved sooner than later.
In the meantime, users have found success by using a Google Home app paired with any compatible external speakers. The connection seems to be more stable and reliable. This is because Google Home's Bluetooth is designed for audio quality, not just mobility.
4. Can I connect my Google Home to a soundbar?
Yes! All you need to do is make sure your soundbar features Bluetooth capabilities then follow the same steps below:
5. Can I connect multiple Bluetooth devices to my Google Home?
Yes! While we recommend using the instructions above to connect one at a time, there are additional features in Google Home that can help you get your speakers playing the same audio throughout your home. They're easy to set up, so if you ever want to try it out, let us know, and we'll be more than happy to walk you through it!
6. Better Sound in a Few Taps
Although most people would say Google Home speakers sound pretty good, some audio aficionados say it can sound even better. That's why the addition of Bluetooth technology seems so essential to them.
Fortunately, all Google Home devices support most Bluetooth speakers. In fact, you can use just about any Bluetooth speaker with a Google Home including high end products like Sonos or Apple AirPlay systems.
Also, make sure you try out the Multi-Room audio option ! Listen to your favorite music in all rooms of your home with just one simple app.
Have you ever tried to connect your Google Home to a Bluetooth speaker? Does it make the sound more enjoyable? Please share your experience with the TechJunkie community.
Conclusion:
We hope you enjoyed our article about how to set up Google home to connect to Bluetooth speakers. With this knowledge, we know that you can enjoy all your favorite music on a Bluetooth speaker, without having to use your phone or tablet. So what are you waiting for? Get started today by downloading the Google Home app and connect your Bluetooth speaker.